Inside you will find a large variety of antiques & collectibles.
Everything from Avon to Zippo!

Over 4,900 items & counting!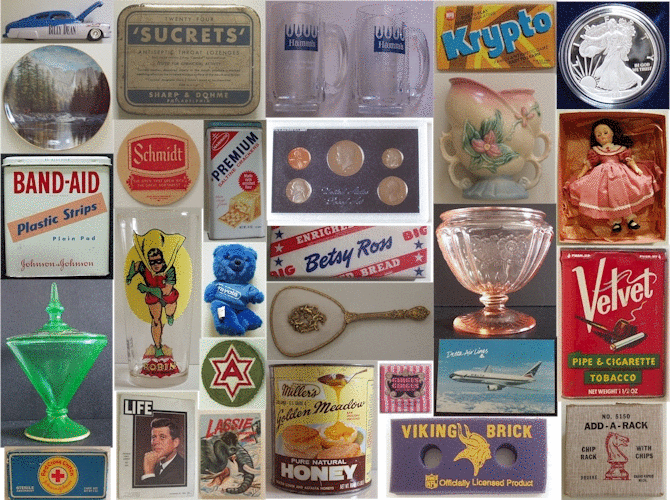 We will do our best to describe each item & provide lots of photos so you can
have as much information with the most competitive pricing possible.

All items are sold "as is" & will make refunds only on a case-by-case basis.
Please feel free to ask a bunch of questions before buying!

All items shown are the actual items you will receive, unless otherwise stated.

Any reasonable offer (different from price posted) will be considered!

Some of the photos may be fuzzy or blurry, if you need more or another
picture taken please shoot us a e-mail john@klipit.com

THANKS FOR LOOKING - Hope you find what you've been searching for?

How To Order:



We decided to take the "buy 1" item per transaction approach vs. the
"shopping cart" method. Mainly because many people are looking for
that one special piece to fill or start a collection & usually
don't purchase multiple items at once from
a antiques/collectibles type of website.

If you wish to make multiple purchases then please use the e-mail links
provided throughout the site to make arrangements before purchase.
We will generate a special PayPal button & e-mail you the link
so you can purchase everything in a single transaction.
(It could take up to 24 hours for our reply)

If for some reason you can't use PayPal, then please use the e-mail
link provided by any of your item(s) to make other arrangements.

We do combine orders for the best possible shipping rate!

Refunds will be reimbursed with credit back through PayPal.

We accept - Cash - Money Orders - Cashiers Checks
"But we really prefer you use PayPal"



We Ship Worldwide

*** INTERNATIONAL BUYERS ***

Please CLICK HERE


"SAVE ON SHIPPING"If you are in the Minneapolis/St. Paul, MN. area and want to
pick-up your items, please e-mail john@klipit.com for arrangements.
If you pay for shipping on PayPal and end up picking up your item,
the shipping amount will be refunded at time of pick-up.


We will usually ship USPS
Can also ship UPS or FedEx if needed
Note: UPS & FedEx can not deliver to P.O. boxes

Shipping Insurance & Tracking is available